MyCashFlow is online financial software for individuals and small businesses.
The user-friendly interface, charts, and graphs make this program easy to use. Plus, this tool is integrated into your Rosedale Federal digital banking so you'll have everything you need at your fingertips. With MyCashFlow, you can:

View accounts at Rosedale Federal and other banks, credit card companies, and investment firms, all with just one login
Establish goals so you can budget your money wisely
Set up a budget so you can stay on track in your purchasing and saving activities
Filter tax-deductible transactions to get organized for year-end (always be sure to talk with your accountant or tax advisor when it comes to tax-deductibility)
Categorize transactions and view spending patterns
Take advantage of financial tools, including over-spending alerts
Enroll in MyCashFlow using your Rosedale Federal digital banking login.

Step 1:  Log into digital banking
Step 2:  Select the account you want to analyze

Step 3:  Select "Spending Habits"

Step 4:  The following will appear: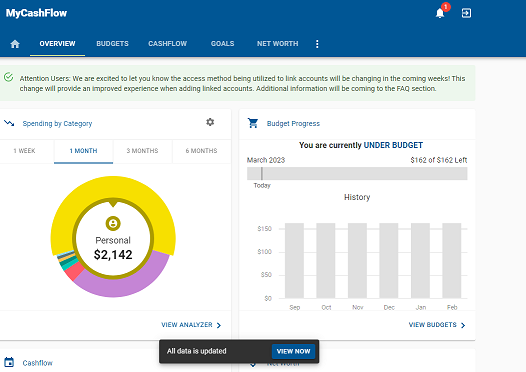 You can use the analyzer, budgets, cashflow, goals and net worth.